There is a common perception that making a medical or hospitalisation claim from medical insurance is particularly hard and frustrating for many. While many insurance companies provide e-claim services, do you know the procedures and how long the process is? Making a claim is simple at Cigna with the e-claim service of MyCigna. You could get to know more about e-claiming under your VHIS policy.
What Is the Benefit Limit of Cigna E-Claim?
Every medical plan has a benefit limit. However, it is expected that medical expenses exceed the limit when there is a medical emergency. For Cigna VHIS Series Flexi Plan (Superior), all eligible expenses incurred during treatment courses are covered with an annual benefit limit of HK$ 30 million.
How to File a Claim Via MyCigna?
Cigna makes claims simple. With MyCigna mobile app or log in at the portal, you could finish the claiming process in just three easy steps.
Cigna's policyholders can enter claim details on the MyCigna app or online portal.
Upload photos of your related proofs and supporting documents.
After the claim has been processed, we will reimburse you directly to your bank account.
Supporting Documents For Filing A Claim
When submitting a claim through MyCigna or the app, please have the below documents ready:
Hospitalisation / Medical Expenses

Hospital Cash / Income

Accident or Medical Expenses Doctor Form completed by your attending doctor
Medical Receipt(s)
Hospital statement of charges / invoice / bill with breakdown of charges
Hospital Discharge Summary or any document(s) issued by doctor/hospital with diagnosis proof
Identity card copy of the Policyholder
If you have submitted a claim to other insurer(s), please provide a copy of the relevant Compensation Breakdown

You will need to have your doctor complete an Accident or Medical Expenses Doctor Form (sample)
Statement of charges from the hospital/Hospital Invoice
Hospital Discharge Summary or Any documents issued by doctor/hospital with diagnosis
Identity card copy of the Policyholder
MyCigna: A Step-By-Step User Guide
My Cigna offers fast, easy access for policy management. Customers can now use the portal or mobile app to make a claim anytime, anywhere.
Download the app or log in on the portal

Smartphones and Tablets: Search "My Cigna" on Google Play or App Store to download the app
Desktop:Log into www.mycigna.com.hk

Register or log in

Log in or register a new account on the portal
Register a new account with a few simple details, including your HKID number and date of birth

Make a Claim

Choose "My Claim" at the homepage or at the bottom of the app home screen. From here, click "Make a Claim"
Choose the insured person and his or her plan
Fill in and confirm the bank account of the policyholder to receive the payment
Fill in and confirm the hospital and doctor's information
Attach your supporting documents and email the hospitalisation form to yourself or directly to your doctor for processing
You may sign with an e-signature on your mobile or tablet
You will be contacted within two working days once your application is confirmed
Cigna E-claim Is Applicable to All Plans
Apart from VHIS, you could also use the e-claim service for claiming other plans.
Critical illness
Temporary or Permanent Disability/ Waiver of Premium
Outpatient / Maternity Cost
Long Term Medication-Hypertension Claim
While some insurers do not support e-claims of outpatient coverages, MyCigna offers you a secure online platform to handle all claims under VHIS and other policies.
---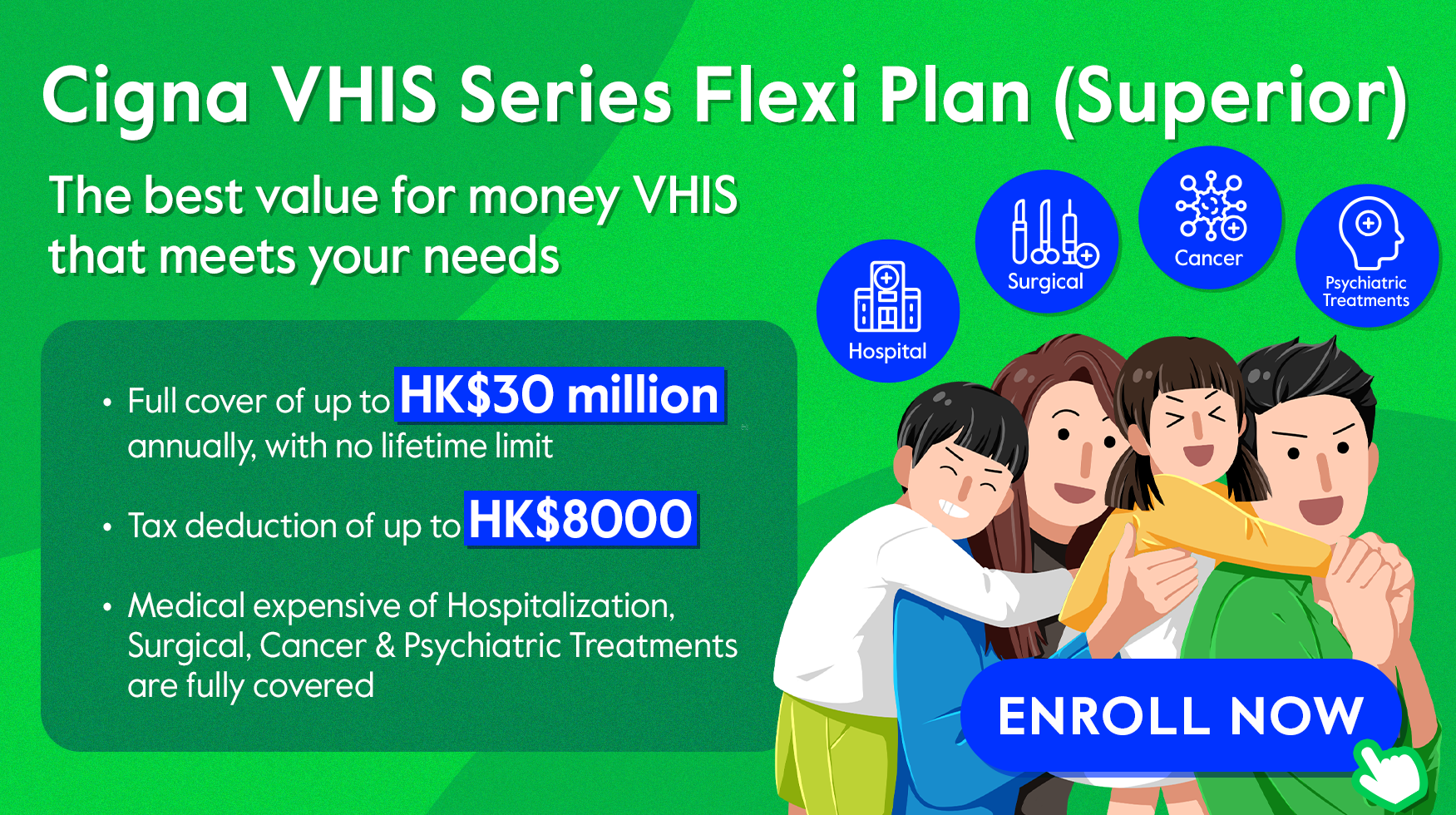 MyCigna's e-claim service makes claims simple and easy. With your mobile and e-medical card, you could enjoy cashless hospitalisation upon medical emergencies and focus on recovery. The new Cigna VHIS Series Flexi Plan (Superior) delivers the best combination of price, coverage and value-added services. you can rest assured that you can anticipate and afford every dollar of your medical expenses, making our voluntary health insurance plans the smartest choice. Click here to learn more.
Sources:
© Cigna 2019
Information provided in this article is intended for health and fitness purposes only and is not intended for use in the diagnosis of disease or other conditions, or in the cure, mitigation, treatment or prevention of disease (see Terms & Conditions for details). Any health-related information found in this article is available only for your interest and should not be treated as medical advice. Users should seek any medical advice from a physician, especially before self-diagnosing any ailment or embarking on any new lifestyle or exercise regime. Any information contained in this article may not be suitable, accurate, complete or reliable. Cigna accepts no responsibility for the content or accuracy of information contained on external websites or resources, or for the security and safety of using them. "Cigna" and the "Tree of Life" logo are registered trademarks of Cigna Intellectual Property, Inc. in the United States and elsewhere, licensed for use. All products and services are provided by or through operating subsidiaries, and not by Cigna Corporation.