Buying health insurance at the prime of your health could be the best decision you can make in your 20s. The public health resources have been under increasing strain while private healthcare certainly does not come cheap, medical insurance will help you to cover the bills in the event of an unexpected illness or accidents.
Let's debunk a few myths on medical insurance:
Myth 1: I am young and healthy, is it too early to get a health insurance plan?
Truth: The lower the age of the insurer, the lower the premium will be, according to the calculations used by Hong Kong's Voluntary Health Insurance Scheme. Starting early on health insurance is vital as full coverage for unknown pre-existing conditions will only be provided from 4th year onwards1.
Myth 2: Should I just purchase the cheapest plan?
Truth: Instead of just looking at the premium, you should compare all the benefits available for each option. Find out about the co-payment amount required in your plan as lower-cost plans are usually more restricted. As you get older, review your plan and upgrade if necessary to meet your healthcare needs.
Myth 3: My company also offers medical insurance, is it not necessary to buy another plan?
Truth: Coverage provided by your company's plan is usually not so comprehensive and may be inadequate to pay for more serious medical needs. Furthermore, you will lose the coverage when you are no longer under employment. Having your own policy will give you better protection and peace of mind.
Myth 4: Health insurance is not worth it. I won't be able to get my premium back if I don't make any claims, right?
Truth: Most plans offer services such as routine screenings and immunization for preventive care; health insurance is more than just making claims for hospitalization bills.
Get insured from a young age
It's never too early to plan for the unpredictable. Starting early on health insurance is vital. Young parents, in particular, should also get health insurance for their children as early as possible. Public healthcare system in Hong Kong has been overloaded for some time. To plan the best for your children, private hospital - which medical expenses are comparatively higher - is a more common choice. An all-rounded medical plan can lessen parents' financial burden when the time comes.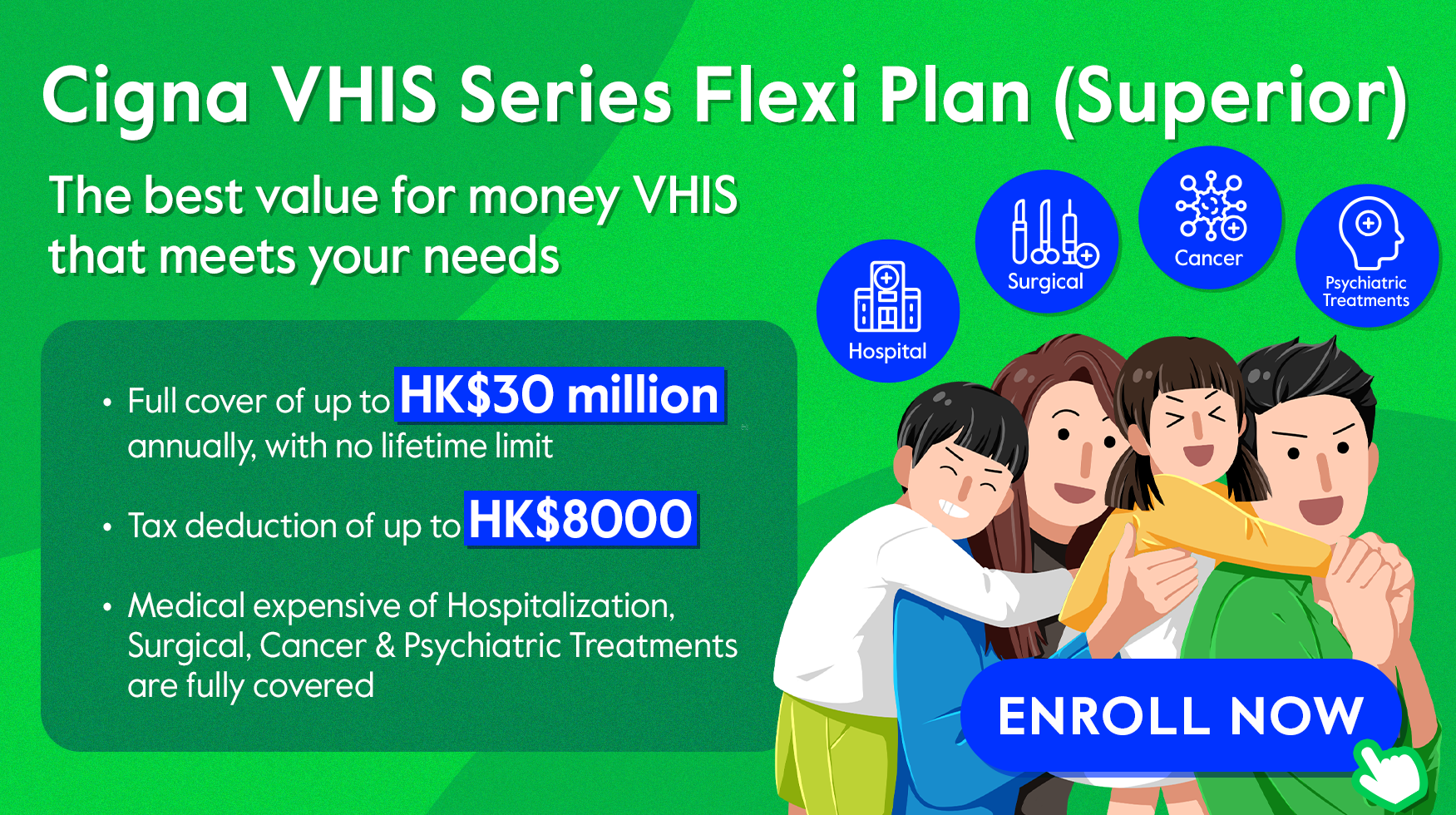 Cigna VHIS Series Flexi Plan (Superior) not only covers numerous medical services, including full compensation for hospitalization, surgery, diagnostic imaging tests, but also enables an enhanced benefit of outpatient kidney dialysis. Cigna gets your medical needs covered! Click here to understand more about Cigna VHIS Series.
Sources:
© Cigna 2019
Information provided in this article is intended for health and fitness purposes only and is not intended for use in the diagnosis of disease or other conditions, or in the cure, mitigation, treatment or prevention of disease (see Terms & Conditions for details). Any health-related information found in this article is available only for your interest and should not be treated as medical advice. Users should seek any medical advice from a physician, especially before self-diagnosing any ailment or embarking on any new lifestyle or exercise regime. Any information contained in this article may not be suitable, accurate, complete or reliable. Cigna accepts no responsibility for the content or accuracy of information contained on external websites or resources, or for the security and safety of using them. "Cigna" and the "Tree of Life" logo are registered trademarks of Cigna Intellectual Property, Inc. in the United States and elsewhere, licensed for use. All products and services are provided by or through operating subsidiaries, and not by Cigna Corporation.