One in three young Hong Kongers suffered from stress, anxiety or depression, a survey carried out in 2018 has found. Among the 837 children aged between 6 and 17 surveyed, 31.6% suffered from mild to extremely severe stress, and 38.7% suffered from moderate to extreme anxiety.1 This can lead to other illnesses.
The figures seem startling, especially when it's often assumed that children's lives are carefree. How can we help children handle stress?
Getting active
A group of Finnish researchers may have found the answer. Studying 258 children in regard to their physical activity and stress hormone, the researchers have found that those who were more physically active responded better to stress and showed fewer signs of depression. Exercise, as suggested, can be an effective stress-buster for children.2
With that in mind, how about some outdoor group exercise games for our children this summer?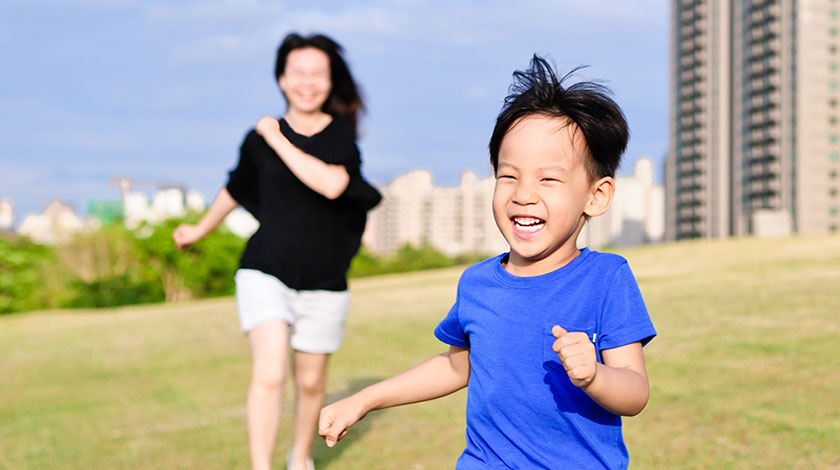 Squat relay
Two groups of children stand on opposite sides facing each other. On "go" they run towards the middle, perform three squats, high-fiving each other in between each squat, then return to their sides. Shift sideways and repeat.
Go back and hit it
On "go" children run forward in their own lanes. On "back" they run in reverse. On "hit it" they switch to another skill, for example, squat jump or tuck jump. Make it more fun and let the children choose their own "hit it" skills.
Exercise keeps our children's bodies and minds in good shape. That's truly too good a two-for-one deal to pass up!
A part from the mental health of your child, we should also pay attention to the physical condition of child. Cigna Health4Kids Premium Refundable Plan covers up to 16 children critical illnesses including cancer and coronary diseases. We invest in prevention, rather than just reacting to symptoms. Hence we provide annual coverage on preventive care expenses, including vision and oral health, vaccinations and health check-up.Learn more here.
Sources:
1. South China Morning Post - One in three young Hongkongers suffers from stress, anxiety or depression, Hong Kong Playground Association survey shows
2. The New York Times - Exercise May Help Protect Children From Stress
© Cigna 2019
Information provided in this article is intended for health and fitness purposes only and is not intended for use in the diagnosis of disease or other conditions, or in the cure, mitigation, treatment or prevention of disease (see Terms & Conditions for details). Any health-related information found in this article is available only for your interest and should not be treated as medical advice. Users should seek any medical advice from a physician, especially before self-diagnosing any ailment or embarking on any new lifestyle or exercise regime. Any information contained in this article may not be suitable, accurate, complete or reliable. Cigna accepts no responsibility for the content or accuracy of information contained on external websites or resources, or for the security and safety of using them. "Cigna" and the "Tree of Life" logo are registered trademarks of Cigna Intellectual Property, Inc. in the United States and elsewhere, licensed for use. All products and services are provided by or through operating subsidiaries, and not by Cigna Corporation.