Having a group medical plan is certainly better than not having any protection at all. The question is, can a standard group medical plan provide enough protection? In order to decide whether you need personal medical coverage at all, it is wise to take a look at what protection your group medical plan can and cannot offer.
In Hong Kong, most group plans can only cover 50-70% inpatient and surgery expenses. However, you can leverage your group plan to have your bills fully covered!
The secret is to choose an additional medical plan with a deductible option. They usually have lower premiums but comprehensive coverage. This plan will pay for the rest once the deductible amount has been covered by your group medical plan. That way, you can enjoy a lower premium with a more comprehensive medical care.
In this video, you will learn more about why you need to purchase an additional plan on top of your group plan.
---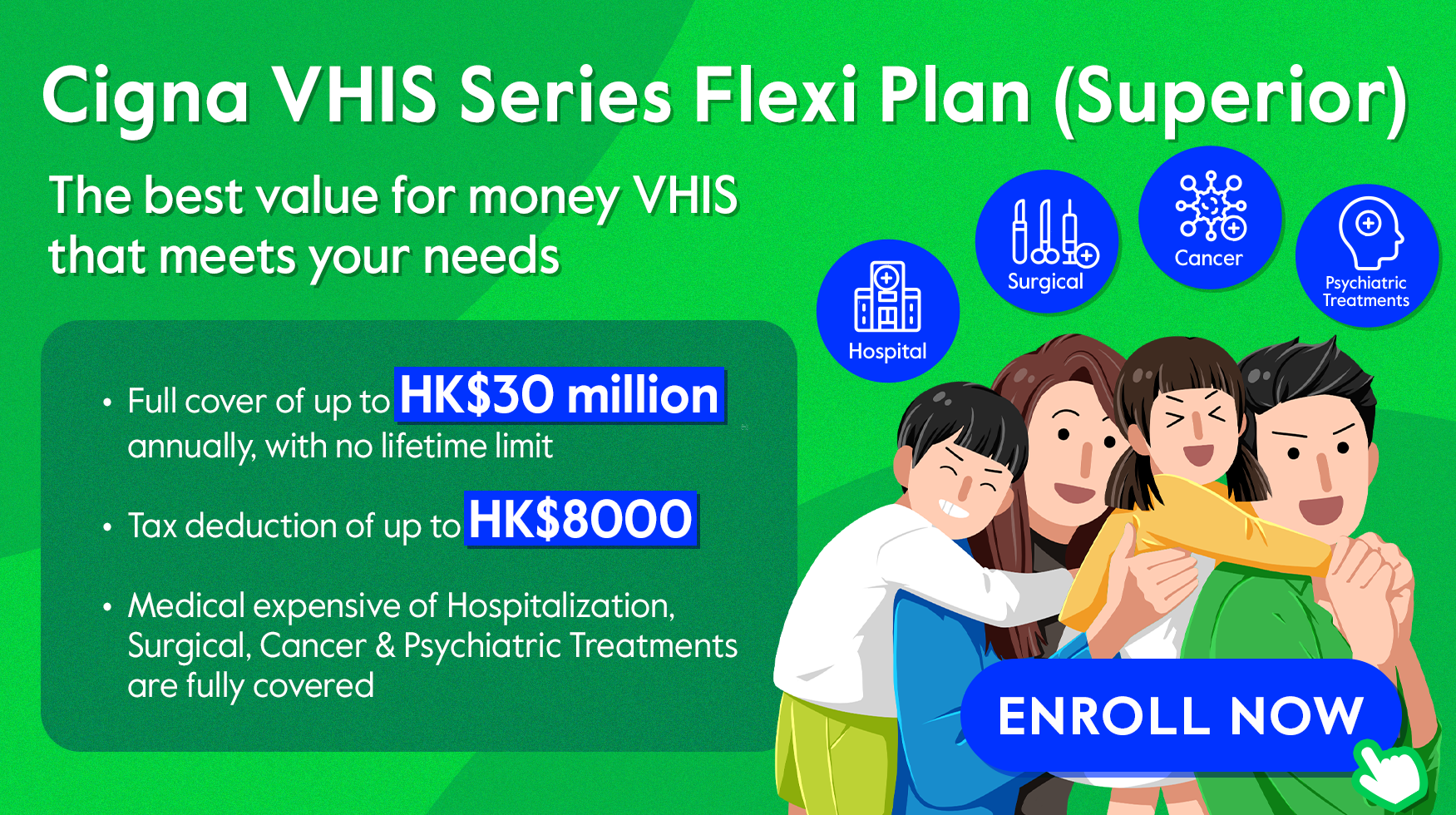 Cigna VHIS series Flexi Plan (Superior) offers four deductible options ranging from $0 to $50,000 with full compensation on hospitalization benefits and surgical benefits, etc. We also offer other plans in the Series, which can cater to your individual needs. Not sure how to select a VHIS plan? Click here to find out more.
© Cigna 2019
Information provided in this article is intended for health and fitness purposes only and is not intended for use in the diagnosis of disease or other conditions, or in the cure, mitigation, treatment or prevention of disease (see Terms & Conditions for details). Any health-related information found in this article is available only for your interest and should not be treated as medical advice. Users should seek any medical advice from a physician, especially before self-diagnosing any ailment or embarking on any new lifestyle or exercise regime. Any information contained in this article may not be suitable, accurate, complete or reliable. Cigna accepts no responsibility for the content or accuracy of information contained on external websites or resources, or for the security and safety of using them. "Cigna" and the "Tree of Life" logo are registered trademarks of Cigna Intellectual Property, Inc. in the United States and elsewhere, licensed for use. All products and services are provided by or through operating subsidiaries, and not by Cigna Corporation.