Yoga is one of the biggest fitness sensations of the past decade, but don't be fooled into thinking that it is a passing fad. This ancient practice dates back thousands of years, and you can be sure it's here to stay.
Increased joint flexibility, improved muscular strength and stress relief are just some of the many health benefits associated with yoga.1 Regular yoga sessions may even increase energy and alertness levels, and lower your blood pressure.2 If you haven't tried yoga yet, there's no better time than now.
Simple yoga poses for beginners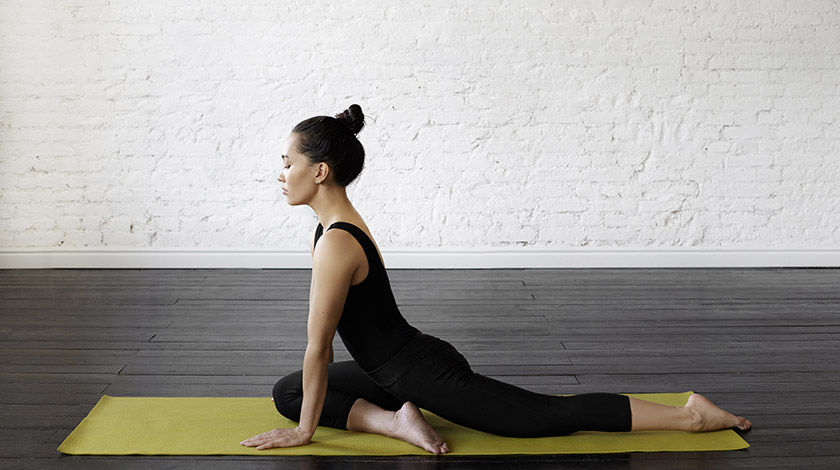 You may have seen seasoned yoga practitioners contort themselves into gravity-defying poses, but rest assured you don't need to achieve such difficult poses to reap the many health benefits of yoga.
Here are three easy yoga poses for beginners (detailed instructions on how to perform each pose, complete with handy illustrations, can be found here).
1. Extended puppy pose
Also known as the downward dog, it's an excellent way to stretch your lower back and practice deep breathing.
2. Cat cow pose
The cat cow pose involves more aerobic activity. It consists of rhythmically switching between the cat and cow poses between 10 and 20 times.
3. Reclining bound angle pose
When you've warmed up your spine and glutes with the previous two poses, it's time for something a little more challenging. The reclining bound angle pose is a great test of your core strength — particularly your lower-back muscles, which are definitely underworked if you work a desk job. If you're struggling with this one, a yoga pillow or block can come in handy.
These simple poses can be done at home with minimal props, and are a great way to ease yourself into yoga practice. Have fun with them. Namaste!
Sources
https://www.cigna.com/individuals-families/health-wellness/hw/medical-topics/stress-management-uz2286. Visited 23 May 2018.
© Cigna 2019
Information provided in this article is intended for health and fitness purposes only and is not intended for use in the diagnosis of disease or other conditions, or in the cure, mitigation, treatment or prevention of disease (see Terms & Conditions for details). Any health-related information found in this article is available only for your interest and should not be treated as medical advice. Users should seek any medical advice from a physician, especially before self-diagnosing any ailment or embarking on any new lifestyle or exercise regime. Any information contained in this article may not be suitable, accurate, complete or reliable. Cigna accepts no responsibility for the content or accuracy of information contained on external websites or resources, or for the security and safety of using them. "Cigna" and the "Tree of Life" logo are registered trademarks of Cigna Intellectual Property, Inc. in the United States and elsewhere, licensed for use. All products and services are provided by or through operating subsidiaries, and not by Cigna Corporation.