Music can heal, literally. Studies have revealed that music releases endorphins, which can ease pain, or even improve surgery outcomes. There's a connection between music and our health.
As we are living in an era where health and wellness consciousness is at the forefront, integrating sound or music therapy to de-stress or enhance emotional wellbeing seems to be gaining more momentum.
What is sound therapy?
The British Academy of Sound Therapy uses a variety of instruments, such as gongs, tuning forks and crystal bowls, to achieve specific sound frequencies. The process creates states of relaxation, meditation and contemplation. These tools have become increasingly popular in Hong Kong as it offers a space for reflective thought - a coveted luxury for urban dwellers.
Let's explore some common sound therapy tools and their benefits.


Tuning forks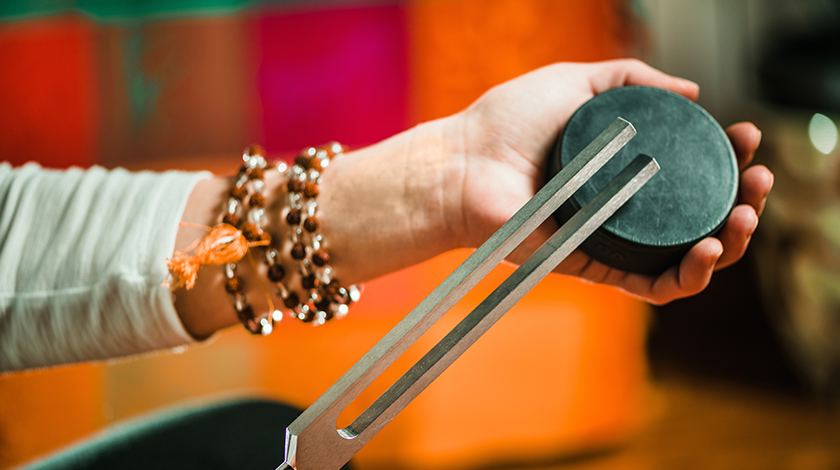 A gentle acoustic therapy that uses sound waves produced by tuning forks to re-tune our body, physically and spiritually.
Tibetan singing bowls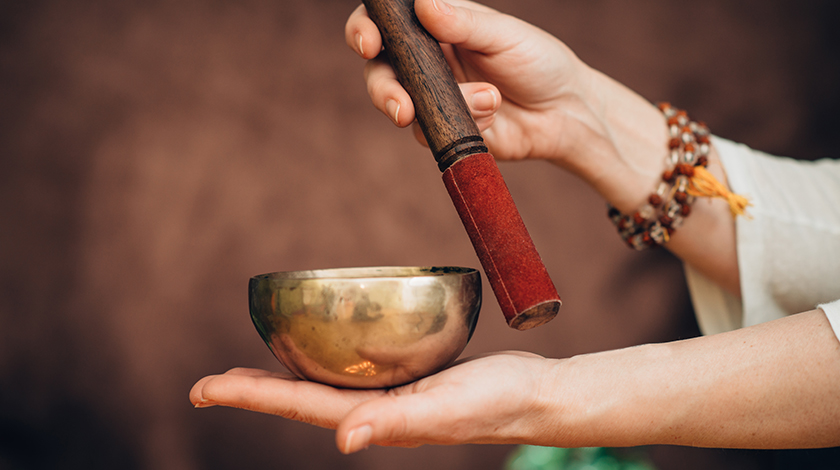 The rich, resonant tone produced by the bowls when played can offer powerful healing properties.
Gong bath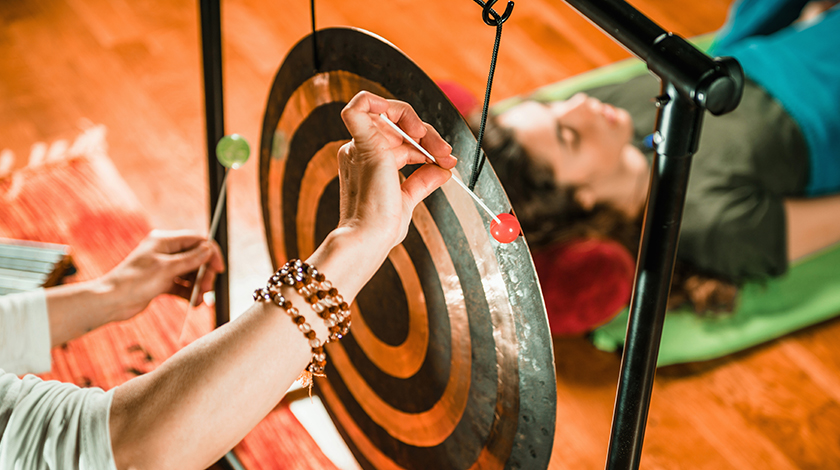 A gong bath does not involve immersion in water. When the vibrations of the gong wash over your senses and mind, you feel like bathing in a sea of healing sound.

Sound healing and Yoga
Some Yoga teachers would combine gong baths at the end of the Yin Yoga practice, taking one into a deep state of relaxation and ease as the sound vibrations immediately quiet the mind, relaxing the whole body and beyond.
Sound Therapy in Hong Kong: where to go?
Red Doors Studio in Wong Chuk Hang offers private gong baths as well as regular group sessions. You can also try out CandleLit Rest & Restore Yoga with Crystal Singing Bowl in Fivelements originated in Bali. For those who're looking for tuning forks treatment, join professional courses from Remind Workshop.
What is music therapy?
Music therapy, according to American Music Therapy Association, is the clinical and evidence-based use of music interventions to accomplish individualized goals. It involves activities such as listening to music, singing and playing a musical instrument. The therapy is facilitated by a credentialed music therapist.
The goal of music therapy
Based on your needs, a music therapist will set goals for your treatment, such as:
Enhancing mood
Relieving anxiety
Strengthening your coping skills
Encouraging emotional expression
Music therapy, combined with medication and other types of therapy, can be part of a plan for managing depression and anxiety, sleep disorders, and even cancer. However, it is not recommended as a stand-alone treatment for serious issues.


When music therapy meets technology
Wellness technology is garnering promising traction in recent years. Music healing apps such as Humm.ly are designed to upgrade mindfulness practice with music therapy techniques. Gong meditation or tuning fork sessions are also made available by Youtube and Spotify, making sound healing more accessible.
Sources:
© Cigna 2019
Information provided in this article is intended for health and fitness purposes only and is not intended for use in the diagnosis of disease or other conditions, or in the cure, mitigation, treatment or prevention of disease (see Terms & Conditions for details). Any health-related information found in this article is available only for your interest and should not be treated as medical advice. Users should seek any medical advice from a physician, especially before self-diagnosing any ailment or embarking on any new lifestyle or exercise regime. Any information contained in this article may not be suitable, accurate, complete or reliable. Cigna accepts no responsibility for the content or accuracy of information contained on external websites or resources, or for the security and safety of using them. "Cigna" and the "Tree of Life" logo are registered trademarks of Cigna Intellectual Property, Inc. in the United States and elsewhere, licensed for use. All products and services are provided by or through operating subsidiaries, and not by Cigna Corporation.