According to 2019 Cigna 360° Well-being Survey, Hong Kong's overall well-being index is at 57.7, the fourth lowest health and well-being score surveyed with only Turkey, Taiwan and Korea placing lower.1 The main reason is a lack of exercise, which may lead to increasing risk of heart disease, type 2 diabetes, dementia, and some cancers, as revealed by Lancet Global Health Journal.2
Active families, healthy kids
Another survey by the Chinese University of Hong Kong found that Children and teenagers in Hong Kong are more glued to electronic screens than they were two years ago.3 The physical fitness of local youths was far behind other cities in Asia including Japan and Taiwan. Shortage of living space, limited access to sports facilities, parents' long working hours and the youth's academic pressure all contribute to kids' below-standard fitness level.
Exercising is not Hong Konger's favorite pastime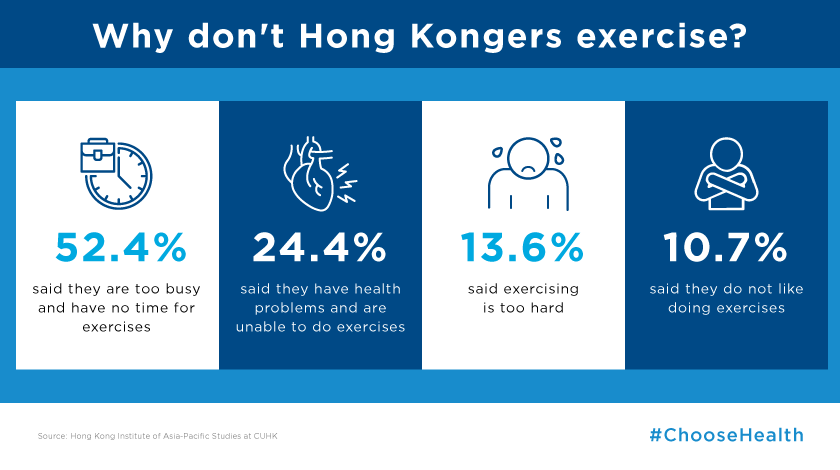 When asked about the frequency of exercising in the past six months, up to one-third of adult respondent answered rarely or no exercises. Among those who are inactive, more than half said that they are too busy and have no time for exercises. Another 13.6% said "exercising is too hard", and another 10.7% said "they do not like doing exercises".4
Effective exercise doesn't take long
Contrary to our perception, effective exercising is easy and quick. The WHO recommends that the minimum exercise needed is 150 minutes of moderate-intensity, or 75 minutes of High-intensity physical activity per week. That makes 10-20 minutes of exercises only per day!2
Simple exercises for beginners5
Here is an example of 10-minute exercise you can complete every night when watching TV or waiting for the water heater to reheat. It can easily be squeezed into any part of your schedule.
Squats: 30 seconds
Knee push-ups: 30 seconds
V-ups: 30 seconds
Mountain climbers: 30 seconds
Rest: 30 seconds
Repeat this routine four times
Making use of technology
We depend on our phones so much, so why not use them for fitness purposes? Download from a myriad of fitness apps, where you can record and measure your progress for better results. There are also millions of exercising videos online that will make you sweat in less than 10 minutes. Make the Right Choice for Your Health and click on one to start your routine now!
Reference: