Soon, it will be winter. The cool, balmy weather is a pleasant respite from the hot summer days but this time of the year could be harsh on your skin. Cold and dry winter air leaves the skin dehydrated, causing discomfort and aggravating certain conditions such as eczema.
Dry skin is likely to cause one or more of the following symptoms:
Itchiness
Redness
Chapped lips
Areas of thickened, rough skin
Painful cracks on the skin
Dermatitis with red, inflamed and scaly skin
Eczema, which can appear as round, scaly, itchy and red patches on the skin
Bacterial infection
Which of your lifestyle habits causes dry skin?
The outermost layer of your skin is a protective barrier that locks in moisture to keep your skin plumped and healthy. Often hot showers and harsh soaps can strip the skin off the natural oil, leaving it drier and irritated with time.
Steps to take to prevent dry skin
Avoid long and hot showers, stick to a 10-minute shower rule
Switch to milder cleansers and soaps
More Skincare Tips For Dry Skin
As the weather turns dry, switch to heavy face cream or moisturizer to keep your dry skin hydrated. Those who are suffering from severely dry skin must lather up on lotion and moisturizer as soon as they step out from the shower.

Consume Vitamin E To Improve Skin Health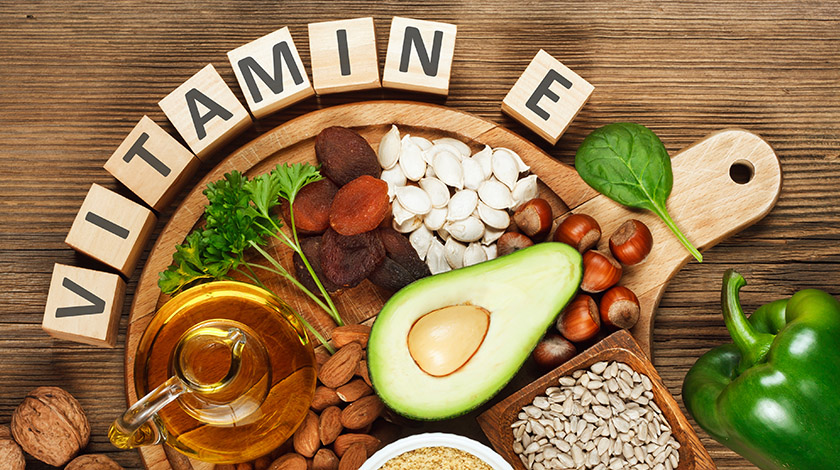 Vitamin E is a fat-soluble, essential nutrient with anti-inflammatory properties that support skin health. Look out for skincare products that contain Vitamin E the next time you are shopping for lotion, sunscreen, and moisturizers for dry skin, or you can purchase the topical Vitamin E cream from the pharmacy.
A healthy diet rich in Vitamin E and other essential nutrients is indispensable in keeping your skin healthy. Besides the supplement, natural Vitamin E can be found in a variety of foods, including:
Broccoli, spinach and other green, leafy vegetables
Salmon and other seafood
Nuts and seeds e.g. sunflower seeds and hazelnuts
Vegetable oils e.g. sunflower oil and safflower oil
Keep in mind that your external skin conditions mirror internal conditions. Always take care of your skin from the inside out and you're halfway there!
Sources: