Diabetes afflicts nearly 13% of Hong Kong's population.1 While there is no cure, diabetes can be controlled via a disciplined lifestyle and the first step is to master your diet.
Glycemic index: An index to follow
Understanding blood glucose (blood sugar) level is a key part of diabetes self-management. A major benchmark is the Glycemic index (GI). It tells you how quickly a food can make your blood sugar rise. The GI index runs from 0-100. 55 or below is considered a low GI.2
While the recommended blood glucose level is different for every diabetic patient, the general rule is to choose low GI foods over high GI foods, which increase glucose rapidly in your body. Diabetic patient should consult their doctor and healthcare team about the blood glucose level they should maintain.
A recipe with low GI
Here is a recipe with low GI: Shitake, Ginger And Tofu Hokkien Noodles3
Ingredients
2 tablespoons low-sodium soy sauce
2 tablespoons Chinese rice wine
1 tablespoon Chinese black vinegar
375g packet firm tofu, cut into small cubes
150g baby corn halved lengthwise
150g shitake mushrooms, halved
150g sugar snap peas, strings removed
6 spring onions, trimmed, cut into 4cm lengths
1 bunch choy sum, trimmed, cut into 3 equal lengths
450g packet fresh Hokkien noodles
1 garlic clove, crushed
2 tablespoons finely grated ginger
1 tablespoon olive oil
2.5cm piece ginger, cut into very thin matchsticks
1 long red chilli, deseeded, thinly sliced
Steps
Combine the soy, rice wine, vinegar, garlic and grated ginger. Add tofu and marinade for 4 hours.
Heat half the oil in a large wok or frying pan. Fry the tofu until golden. Remove and set aside.
Heat the remaining oil, add the ginger and chilli, stir fry 30 seconds, add baby corn and mushrooms, stir fry for 2 minutes more.
Add the sugar snaps and spring onions, cook for 1 minute then add choy sum, noodles and reserved marinade.
Toss together for 1-2 minutes until the noodles are heated through and coated in the sauce.
Return the tofu to the wok and toss to combine. Ready to serve.
A truly balanced diet for Diabetic patients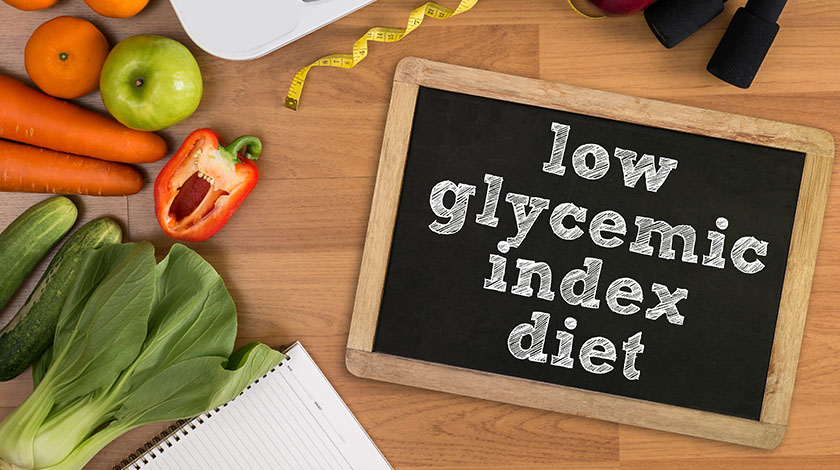 While GI is a major reference for a healthy diet, not all low-GI foods are healthy choices. Chocolate, for example, has a low-GI because of its fat content, which slows down the absorption of carbohydrate.4 But given its high sugar content, it is not recommended for diabetic patients. More about diet tips on fat and calories.
---
We should always look for a balanced diet — low in saturated fat, salt and sugar.4 Consume everything in moderate portions because weight gain makes it harder to control your blood glucose levels. Fighting diabetes starts with a fork and spoon and it completes with Cigna Healthfirst Diamedic Plan. It offers hospitalization benefits of up to HK$3,600 per day, maximum of 270 days per policy year and much more protection. Learn more here.
Sources:
© Cigna 2019
Information provided in this article is intended for health and fitness purposes only and is not intended for use in the diagnosis of disease or other conditions, or in the cure, mitigation, treatment or prevention of disease (see Terms & Conditions for details). Any health-related information found in this article is available only for your interest and should not be treated as medical advice. Users should seek any medical advice from a physician, especially before self-diagnosing any ailment or embarking on any new lifestyle or exercise regime. Any information contained in this article may not be suitable, accurate, complete or reliable. Cigna accepts no responsibility for the content or accuracy of information contained on external websites or resources, or for the security and safety of using them. "Cigna" and the "Tree of Life" logo are registered trademarks of Cigna Intellectual Property, Inc. in the United States and elsewhere, licensed for use. All products and services are provided by or through operating subsidiaries, and not by Cigna Corporation.